So these are the things I am loving at the moment - from left to right: 17 Miracle Matte skin primer, Garnier BB cream for combination/oily skin in Light, Bourjois Healthy Balance powder in vanille, Mac Studio Fix concealer in NC15, Estee Lauder Double Wear Light foundation intensity 1.0 and Revlon Lip Butter in Raspberry Pie.
17 Miracle Matte skin primer:

I have to say I was dubious about this product, I don't often trust reeeallly cheap drugstore brand make up such as Boots 17 but I was looking for a mattifying primer at the time, and on their make up stand hotspot they had the entire range; the primer, the foundation, the pressed powder and loose powder. I tried the primer on the back of my hand and it felt smooth and incredibly matte (obviously) and it was on offer for £3.99 so I thought well why not? But I will not be using the foundation any time soon, I steer clear of foundations that cost under £7.00, not because I am a brand snob but because from experiences when I was much younger, cheap foundation just doesn't cut the mustard.
I have used no end of primers with silicone in them…and I hate silicone in make up products. Why in the hell would you want to fill in your pores, like polyfiller? Because that is all those primers do, and they take your foundation in with it after a few hours of wear. I used a primer with silicone in as I have enlarged pores (not hideously noticeable but still!) and all it did was cause my foundation to settle in the pores so each and every one was highlighted! I had tiny foundations spots all over my face. Not to mention silicone based products have a weird ass texture to them, greasy and just…bleurgh! 
The verdict:
So anyway, I used this 17 primer and oh my goodness does it make a difference. I remain shine free ALL day and because I use other mattifying products with it, my skin really does produce far less oil, I even tested it on a hot humid day. For under a fiver I am laughing, this product is so so good! The one thing I will mention is that it can make certain products harder to blend over top of it, because it is that mattifying it makes your skin literally have no oil on it at first (but it doesn't feel tight or dry as such).
Pro's: Leaves skin matte all day, skin feels soft without feeling tight and dry, make up lasts longer.
Con's: Makes some formulas/products harder to blend in, but persist and they eventually will.
Garnier BB cream for oily/combination skin:
You have no idea how psyched I was when I walked into Boots and saw this product. I used the original Garnier BB cream in Light last year, and I loved it. The coverage was lovely, it smelled delicious, did everything it said, except for one thing: it was too moisturising for my oily skin and therefore broke me out :( I was gutted I could not continue to use it! However this beast came out and I am very happy, I was so excited to try it. It claims to minimise pores, even permanently reduce them in size after four weeks of use, it has perlite in it, which helps mattify the skin, has SPF 20, supposed to have good coverage, basically it claims to be an all round good product.
The verdict:
I am VERY impressed with this product. I use a lot of other Garnier products for my face and body and this is now top of the list. It really does cover well, like a foundation, I don't need any other kind of camouflage for my face after using this, just my Bourjois Healthy Mix powder to set it. The consistency is far more liquid-y than the original Garnier BB cream, but it blends very well, and I think the colour "Light" in this BB cream is lighter than the original BB cream in "Light" which is good news for me, although the original one still matched well. It smells like alcohol a little, but they are the sorts of smells you get sometimes with products for oily skins (from years of experience having breakouts and oily skin). But because of how well it blends, looks, feels, I don't care about the smell to be honest! It has a lot of yellow undertones to me, which is good for counteracting any redness due to spots etc, and once applied the skin feels normal/matte, comfortable and not like you have a thick layer of something on, it's so light but with amazing coverage, I cannot stress how much everyone with oily skin NEEDS to go get this! It is £9.99 in Boots, seriously, it's good :)
Pro's: Great coverage, not heavy, mattifying, blends out pores, blends well, the light shade is pretty light/fair, has SPF…I could go on.
Con's: None! Well, maybe the smell, if you have to have products that smell good.
Bourjois Healthy Mix face powder:
This powder is from the raved about Healthy Mix range, and out of the blue I decided to buy it one day. It claims to use "Asian fruit therapy" to help mattify and moisturise where needed. It also claims to keep skin matte for up to ten hours and boost radiance of the skin. 
The verdict:
This powder is very good for the money (I believe it is £8.49 or something, it's under a tenner anyway), I wouldn't say it keeps skin matte for ten hours but it's pretty close, I only have to ever touch up once half way through the day, so that's not too bad. It doesn't give you the dreaded chalky look, especially if applied with the right brush (I use a Bare Minerals brush from ages ago I got in this kit) and applied sparingly. It makes my skin look and feel normal, and sets my make up very well. Plus it smells AMAZING! It smells like fruit cocktails, which is weird, I have not ever smelled a scented face powder. It is also lasting me a long while, for a pressed powder, they often don't put a lot of product in the pan, I was expecting to hit pan a few days ago but I haven't.
Pro's: Only need to touch up once if at all, smells good, lasts a long while, doesn't look chalky, sets make up well.
Con's: Could potentially have to touch up more on a very humid day, but even the best make up cannot always stand up to such high levels of humidity.
Mac Studio Fix concealer:
I used this when I was still in High School (five years or so ago eeek) and my mum often used and still does use higher-end make up, and because at the time I was suffering with a fair few spots and discolouration, I felt really self-concious about it, so she bought me this, and I went through a couple of pots over a couple of years and loved it. I have no idea as to why I stopped using it, I do get bored or move onto new things quite quickly so that was to blame. Anyway I decided to stop using my Clinique Anti-Blemish concealer every day and switch to something that I can use every day whether I have breakouts or not. I forgot how wonderfully pigmented it is, how well it matches my skin tone and how great the coverage is, and the durability. 
The verdict:
I have already said it really haven't I? I just love it, I should never have cheated on it with other concealers, it's so amazing, and a pot lasts forever! 
Pro's: One pot lasts forever, highly pigmented, good coverage, stays on the skin until you take it off, has SPF.
Con's: None!
Estee Lauder Double Wear Light:
This foundation is basically like the Double Wear but lighter in coverage, or so it claims. I decided to try this after I liked the original Double Wear. My mum bought it for me bless her (she is always buying me stuff, all the bloody time I swear, I feel bad!) and I have been wearing it for a few weeks now. It comes in varying shades of "intensity" with intensity 1.0 being the lightest, which is the one my mum purchased for me. 
The verdict:
Ok. This foundation does not come in the same shades as the original Double Wear. For a start the O.D.W has names of shades, such as Shell etc, and intensity 1.0 goes on SO frightfully orange to begin with, people paler than me would not be able to use it unfortunately. Furthermore, the coverage is not very different to the O.D.W, maybe a little lighter. However despite all that, once I continue to blend this foundation in, it doesn't stay orange at all, it does blend to match my skin tone beautifully, it's just very scary when you first put it on, you think you are going to end up with tide marks! But I just make sure I blend, blend, blend and it's absolutely fine. The fact that the coverage is not much different to the O.D.W is not much of a problem for me, some days I do need more coverage. One extra awesome thing about it is the fact that it really mattifies my skin, now, it doesn't really say it does, but for me it really does work well at keeping my face skine-free, especially along with the 17 Miracle Matte face primer and my Bourjois Powder. And obviously, being Double Wear, it doesn't budge until you remove it at night, you should not need to touch up at all from day to night. I will be sticking with this for a long while, despite it's "shortcomings" if you like. I am willing to overlook the fact that the colour range is not as great as the O.D.W and that it's coverage is not much different.
Pro's: Stays put all day long, mattifies the skin, looks flawless without being cakey.
Con's: Not as wide colour range, the palest shade is not pale enough for most people, coverage is not much different to the O.D.W.
Revlon Lip Butter in Raspberry Pie:
I was so excited when these came out, and after seeing 87daysbefore (Rachel) do a vlog about all the colours she picked up and what she thought of them it made me want to buy them all. However I fancied a change to what I would normally go for, now that I am a bit darker hairwise, I felt like i could start going for more fuschia/deep berry shades. I swatched it first, tried it on and I loved it so bought one. They are £7.99 in Boots. They are supposed to feel moisturising like a lip butter but have lasting colour like a lipstick. 
The verdict:

Very impressed with this product too. The colour is so vibrant and actually stays on my lips almost as well as Mac's amplified creme finish lipsticks! It kind of stains my lips and I rarely need to reapply. They don't make my lips go all peely and dry either. I am dying to get my hands on Tangerine though, and Pink Truffle, because I love orange based corals and I love pinky-nudes. Raspberry Pie is a lovely blue based deep fuschia/magenta colour and looks very pretty on the lips.
Pro's: Last long, feels moisturising, not expensive, good colour range.
Con's: None again!
Sorry about the shitty swatch picture of the Revlon Lip Butter! The lighting was awful and I couldn't get it right no matter where I took it!
Best of haircare products:
I have used all manner of types of hair shampoos, conditioners, masks etc so below I will give the best of every type!
Best shampoo/conditioner for making hair ridiculously shiny:
Herbal Essences Dazzling Shine collection. My hair doesn't need a lot of help in that department anyway however one day when I ran out of shampoo at my boyfriends' house I randomly bought the shampoo, conditioner and mask. All three don't strip the hair and don't make it too dry but it also doesn't make it feel too weighed down and greasy, all whilst adding tonnes of shiny goodness to your hair. Plus it smells delicious, all of Herbal Essences smells delicious and edible. 
Best shampoo/conditioner for coloured hair:
Because I have been dyeing my hair since I was 17 (I only went permanent when I went red which was when I was 19) I have tried a fair few colour protecting ranges and the one I am currently using is the best I have ever used and is very cheap. It is the Dove Colour Radiance shampoo, conditioner and mask, so yeah the entire range, and it is so moisturising but doesn't make my hair greasy and it makes it really soft, shiny and because of this, it allows my hair to remain vibrant in colour. I have been given so much advice by various hairdressers and they say that when choosing a colour shampoo, go for something that is moisturising and repairing for the hair as this smooths down the hair cuticle which seals the colour in, and they are correct. A lot of so called colour protecting shampoos I have found seem to really strip my hair of any moisture and make it look dry and basically shit. The Dove range I use has a serum in all of the products but like I said it doesn't make hair greasy or leave a weird coating on the hair strands. The mask is an express hair mask, which means you leave it on like a conditioner but it has the same effect as leaving a normal hair mask on for ages except in like two minutes so it's good for those that don't want to faff in the shower or bath waiting for a mask to work it's magic. I have tried colour depositing shampoo ranges but because of the colour depositing mechanism in them, they dry my hair up like fuck and makes it go frizzy, otherwise I would totally use them. I suppose I could alternate between two colour protecting ranges but that just means more money.
Best shampoo/conditioner for curly/tousled hair:
I used to straighten my hair but one day I just stopped and realised that my hair was getting wavier by the day, some days it looks like I have used curling tongs (which is just awesome really) and when I have not bothered colouring my hair and therefore don't need to use a colour protecting shampoo/conditioner I use the Herbal Essences Tousle Me range which is FANTASTIC. It smells good obviously, but it doesn't make my hair dry, again, I have used products for curly/wavy hair and they were too harsh for me, but I guess if some people use too moisturising a product on their hair ALL the time it could weigh down the curls and they will drop and lose all definition (I don't seem to get that problem so much, my hair is too wavy now and resists all straightening devices/products). The shampoo and conditioner leave my hair feeling so unbelievably soft and I literally rejoiced when they bought out this range, finally something for keeping my wavy hair looking a little neater and a little more defined as well! Ticks all the boxes for me, I will be using it on and off, i.e. when I am not dyeing my hair.
Best sea salt spray for defining waves: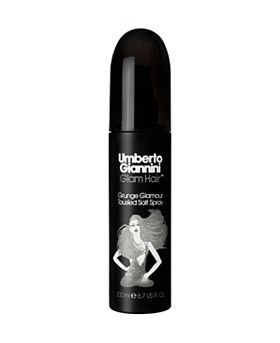 This is too difficult, I cannot pick just one. There are three that do well for me and all are under ten pounds. The first one I will mention is Umberto Giannini Glam Hair Grunge Glamour Tousled Salt Spray. Spray this all in the bottom half of your hair and scrunch using your hands and oh my god perfect beach waves. That is all I use on my hair apart from occasionally some hairspray. And it smells nice, can't describe the smell however it smells fresh and clean and yummy. The next salt spray I love is Charles Worthingtons' Full Volume Mussed Up Texturising Spray. Also cheap and smells like clean fresh laundry just brought in from being out in the sun. Although it can leave hair a tad crispy after using it, it really does define and hold my waves in place. The third one is not a spray but a cream in a tub and is from the Tousle Me range from Herbal Essences. It is a finishing cream that you rub into your palms and then scrunch through the hair. Works very well and smells a bit like Parma Violets. 
Best hairspray: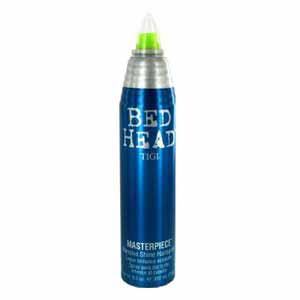 Again I cannot choose just one, it is a tie between Bedhead by Tigis' Masterpiece Massive Shine Hairspray and Umberto Gianninis' Glam Hair Rock n 'Roll Extreme Hairspray. The Tigi one has fantastic hold, as I sometimes do use curling tongs in my hair or a triple barrel heated waver and this stuff holds any style well, and the smell, oh god the smell, it is so delicious and lingers on the hair until you wash it out, smells like a fruit cocktail. The Umberto Giannini hairspray is equally as good and the reason why it gets mentioned too is because it is more affordable than the Tigi one, if I had the money to spend eleven pounds on a bottle of hairspray every other month or whatever then I would but I don't right now unfortunately so Umberto Giannini it is!
Best shine spray/de-frizz combination spray:
Schwartzkopf Gliss Colour Shine spray makes the hair incredibly smooth, if you touch it it feels like glass! And is very reflective, and smells good, AND is pretty cheap. It tames any flyaways that you may have so I would say it's an all round winner!
Best foam hair dye:
OK so I have only tried two but my mum also tried another one which was hideous so I will mention it so that people get a warning prior to deciding to use it. The best one is L'oreal Sublime Mousse, because it ACTUALLY resembles a foam and isn't runny so no risk of it dripping in your eyes or down your face! And the colour comes out even and the conditioner sorts your hair out as the dye is a tad more drying than normal dyes I have used. But I say give it a go, they do some LUSH colours, all the red based brunettes are beautiful, such as Intense Hot Brown and Luscious Hot Chocolate, there are more but I can't remember them all :P Ok so the next one I tried was the Garnier Nutrisse Colour Foam which was very runny and was hard to get out of the bottle! The colour didn't come out very vibrant either, I just wasn't that impressed. To be fair it didn't dry out my hair at all and it felt in better condition than before(?) The worst one which my mum used was the John Frieda foam colour which was SUPPOSED to be blonde but came out red and went patchy and took a while to go back to normal. And her hairdresser, who has been dyeing hair for years applied it and it still went patchy and the hilarious thing is, is that on the packaging it states that with this dye range you do NOT get patchiness. Hmm! 
Best red hair dye ever in the world: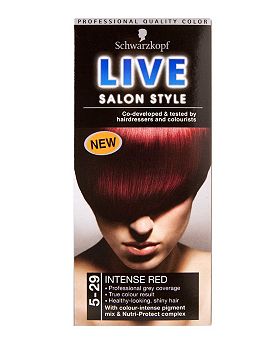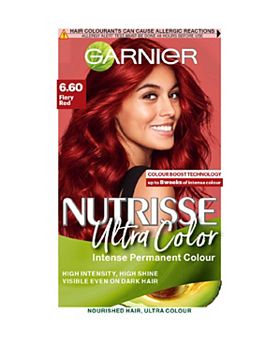 I have tried so many. I was told there was no point getting it done professionally, as it washes out just as quick if not quicker, so home dyes it is! The best one I ever used was Schwartzkopf Live Salon Style in Intense Red. And the conditioner you get leaves your hair like liquid silk afterwards, so causes minimal damage to your hair. I have been told that red hair dye is the most damaging and can be the hardest to keep looking vibrant and healthy looking. And actually, upon looking at girls with red hair just passing me in the street, their ends are so split and look totally frayed. It probably isn't just to do with how they look after it, it is likely to be the red dye they continually use. I have used brunette colour dyes and they are no where near as damaging (obviously all dyes are damaging to hair, they are chemicals!). Another good one I used was the Garnier Nutrisse Ultra Colour in Fiery Red, that is a very vibrant red as well. Also very nourishing for the hair, but not as much as the Schwartzkopf dye. Both of these dyes do not yield a lot of actual product, I buy two boxes to be safe and I only have shoulder length hair, but it obviously also depends on how thick your hair is too. Mine is not too thick otherwise I would probably have to buy even more. 
Best hair oil:
Either coconut oil spray or Argan/moroccan oil. Argan oil is rather expensive however I managed to find a cheaper version but it is only in the UK I believe and it's sold in Boots for £6.99 as opposed to like £12.99 elsewhere. I usually put any kind of oil on when my hair is damp and it makes my ends very soft and shiny. 
Best dry shampoo:
Batiste dry shampoos are amazing and come in too many colour tints and fragrances. They do one for blonde hair, light brunette and medium to dark brunette, tropical, very cherry, it's crazy and they do the job well, just spray it, massage it in a little then brush out. They are also dirt cheap!
Best of skincare/body:
Best body moisturiser:
I love any body moisturiser from The Body Shop, particularly the Coconut shimmer one, because it smells divine and gives your skin a subtle glow, also very VERY moisturising, and I have very dry skin on my body (complete opposite to my face!) so it suits me well.
Best gradual tanner:
Has to be Dove Summer body moisturiser, over a few days it builds up a nice golden tan without any streaks or mistakes, definitely an easier way to look like you have been on holiday.
Best anti-cellulite products:
Jergens Naturals do a body firming moisturiser with pomegranate extract and it really does make a difference. Obviously nothing will make a difference quite like a good diet, drinking lots of water and regular exercise (I never exercise, super super lazy, however I do eat well and drink enough) however this does improve the condition of your skin noticeably. It makes it super soft for a long while after application, it's non-greasy and smells fruity. It is also quite cheap (big pump bottle dispenser is under ten pounds). I also use and very highly recommend Nivea's Goodbye Cellulite Gel-creme. Sinks in very fast and it definitely makes a difference. I used it solidly for three week and I did notice an improvement. I don't have very visible cellulite however so perhaps I am not the best candidate to test it but it improved my skin quality overall. I also use Nivea's Anti cellulite ten day serum as it is more concentrated and so using the two in conjunction with each other is doubly effective. I have noticed that Nivea's anti cellulite products get rave reviews on the internet as they are the cheapest (about eleven pounds each) and do the same as the more expensive creams. 
Best face wash: 
I am prone to spots so I use a face wash with salicyclic acid and sometimes kaolin clay in, to absorb excess oil. The best one that I continually go back to upon having cheated on it with another product for a month or so has to be Garniers' Pure 3 in 1 wash. It can be used without water as a mask, or used as a scrub or wash, so it's versatile and it definitely helps with my problem skin, and no other seems to be as good. 
For normal skin I would recommend anything from the Simple range; it doesn't contain any perfume or irritants and gets skin feeling squeaky clean without feeling overly tight. 
Best toner:
Simples' pore minimising toneris fantastic, it has a weird gel-like consistency and it really does make my pores look smaller and leaves my skin feeling fresh for hours afterwards.
Best facial moisturiser:
I don't really need to moisturise however I do use a product from Lush called Colour Supplements, it is basically a tinted moisturiser and it works almost like a BB cream, providing some coverage and is a good base for make up. The shade I use is called Jackie Oates for very pale skinned people. 
Best pore minimising product:
Any of Cliniques' Pore minimising range is brilliant. Leaves skin feeling baby soft and although pricey it really does work and after a while of using any of the products, your pores look far far less noticeable. I am very impressed!
Best anti-spot product:
Oxy spot cream, without a doubt. Benzoyl peroxide based creams are the only thing to shift stubborn spots or acne and I put a 2.5% benzoyl peroxide cream on my face every night and it really does control my outbreaks. It can make your skin peel but then you just have to compensate by applying more moisturiser day and night, or cut down how often you use it. But oxy spot cream contains this chemical and works just fine. In the UK you can have stronger strength creams prescribed or perhaps bought over the counter at a pharmacy. These would contain 5% or 10% benzoyl peroxide however I tried the 10% and my skin felt like it was on fire! 
Best eye cream:
I am sure I have already mentioned this somewhere in another post but Benefits' "It's Potent" eye cream is unbelievable. It is very expensive and so I asked for it for Christmas (it's £23.50). This does everything it says it's going to do. I don't really have dark circles anymore thanks to this and my entire eye area is so soft and smooth, it makes my make up go on better, and you need the TINIEST amount for each eye. I also find a lot of eye moisturisers make me break out near my eyes (horrid) due to them being greasy but this one doesn't do that one bit. I have never used eye cream until I heard other reviews about it saying it was good, and now I know what they were raving about! If you can, buy it, it's the best eye cream out there.
Best eyelash serum:
L'oreals Lash serum is very good. When I was in my younger teens, my eyelashes were, in a word, shit. They were pretty short, sparse and no matter WHAT mascara I used, they would sit there, flat, not doing anything for me. But as I got older they DID get longer all of a sudden but still weren't how I wanted them. So I bought this lash serum and my eyelashes are amazing now. They are thicker, break less, much much longer, and I can use most mascaras and they look pretty alright. 
Best cuticle conditioning product:
Lemony Flutter by Lush is very intensely moisturising and smells like lemon sorbet and every time I use it I have to resist eating it! I use it like a "nail mask", so I leave it on for ten minutes on my entire nail and then wash it off and afterwards my cuticles look less dry and just overall look neater.
Best body scrub:
It is a choice between either The Body Shops' body scrubs, particularly the Mango one, or Soap and Glorys' Flake Away. Both smell lush and they are incredibly moisturising to the point where you do not in any way need to put on even a light body lotion afterwards. It does it all for you, pretty much like a two in one, and neither are that expensive.
Best shower gel:
Any of the Dove Go Fresh range shower gels smell delicious and make your skin super soft afterwards, plus the smell lingers on the skin for a while. For a more luxurious choice I would go for any of the Philosophy range, particularly the Melon Daquiri or Cinnamon Buns shower gels. They smell edible and also linger on the skin but are triple the price of the Dove but they do last a long time, and some can be used as bubble bath and shampoo so it's a good multi-use product.